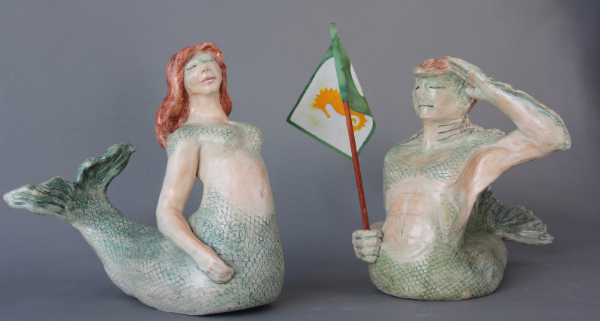 Of Monsters and Myths
Come meet Linda Garratt at our First Friday reception on
August 7th, from 5:00-9:00pm.
Pottery Place Plus 203 N. Washington (adjacent to Aunties Books).
Call 509-327-6920 for further information.
Linda, a longtime member of the shop, says of her work: "Stories of other times and places, myth and legend have always fascinated me. For this show I have embraced theses stories; creating free standing sculptures, wall pieces of winged dragons, mere people and other creatures of my imagination.
I use slabs of clay to build my pieces starting from the bottom, and working up. They are hollow inside, so I work by keeping the clay moist and soft enough to continue building upward, while letting the piece harden enough to hold up the weight of the work. I studied under Bill Sage at Eastern Washington University and graduated with a B.A. in Art. I became a member of the Pottery Place Plus in August of 1979."
...