PAULINE EHLY
FOUR WINDS CREATIONS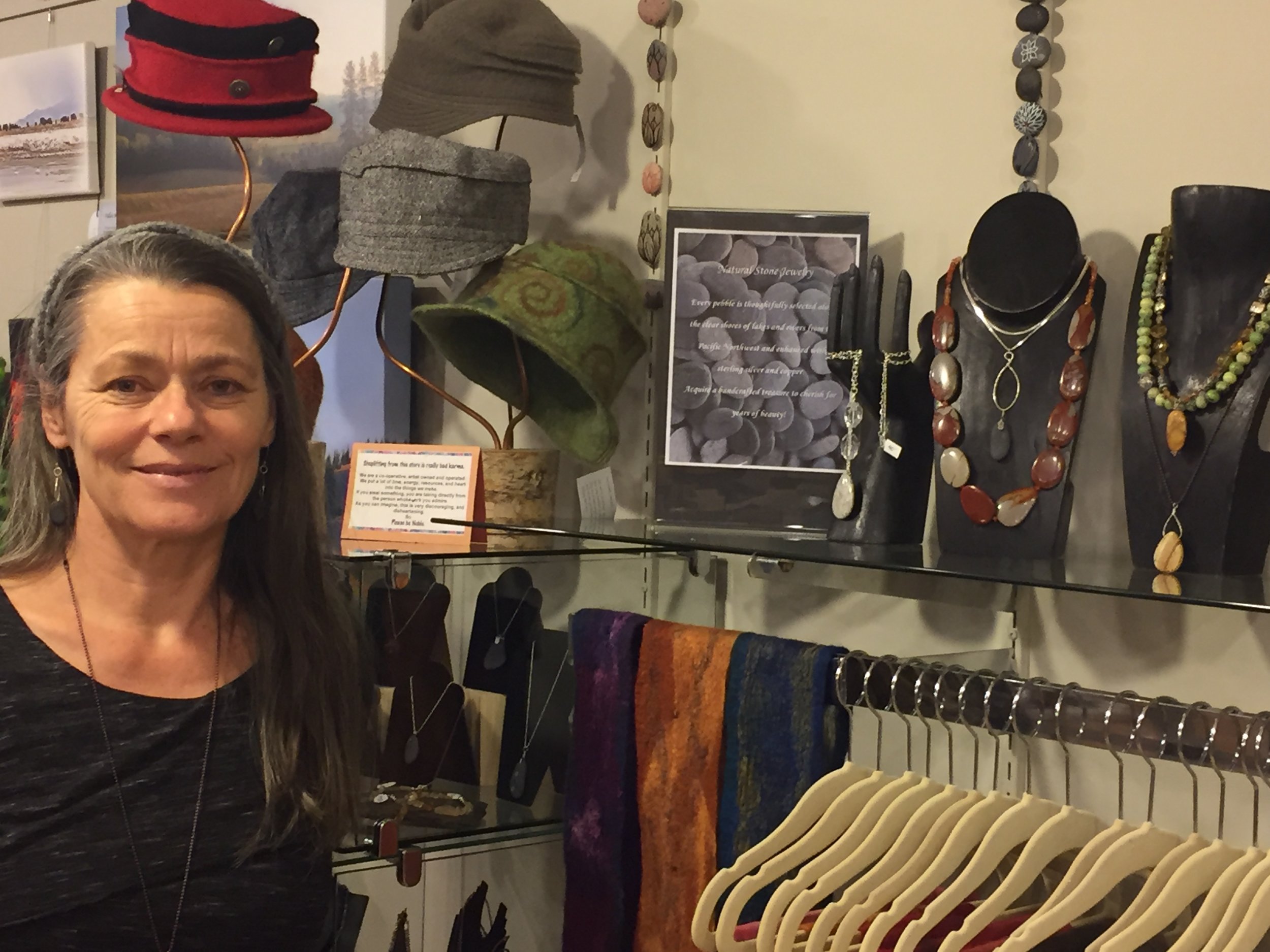 FOUR WINDS CREATIONS
I am primarily a self-taught artist. For many years I've had a passion for all thing's fiber, textiles, metals featuring rich color to create my Art.
I offer my clientele "one of a kind" wearable art, such as handmade felt items, jewelry accessories, eco-dyeing and encaustic wall hangings. Expect transformation in my designs as imagination and curiosity comes to life as it evolves in my studio. Art seems to have a life of its own as it sees a new horizon with each evolution.
The basalt rocks that are incorporated in my jewelry are carefully selected on my travels throughout the Northwest. Each stone has its own story and its individual personality springs to life in every piece when it is born in my studio. There's a lot to say for simplicity and what it contributes to my designs. With that said, I use careful selectivity and creativeness in my Art, making "one of a kind, locally handcrafted treasures".
Experience my Unique Designs and Original Fabric at Pottery Place Plus in Spokane, at special events in the Northwest and also at the Farmer's Market in Sandpoint, Idaho.
PAULINE EHLY
FOUR WINDS CREATIONS
mpaulineehly@gmail.com 208-290-8762
Purchase Care
Thank your for purchasing one of my superb hand felted creations. Whether it is a hat, scarf, bag, baby booties or clothing article this is the way you can take the best care if your item. Hand wash in lukewarm water and mild soap. Rinse, gently squeeze excess water in between a towel and lay on a flat surface to dry.
Some items may be ironed on a wool setting with lots of steam, while it is still damp to retain it flatness and shape. Keep in mind that wool is a natural fabric that will "pill" (balls of wool that come to the surface), like a wool sweater. All you have to do is pick off the pills and it will refresh the look and feel of your item.
Wall hangings should be kept out of direct sunlight to minimize fading and destruction of the natural fibers. Wool has natural oils referred to as "lanolin." Lanolin helps repel moisture naturally and acts as a "scotch guard."
You can often take a damp cloth and spot wash if necessary. Well has hard, microscopic external scales that give is natural stain resistance and its low static fibers attract less dust than other fibers. When dust does build up, gently vacuum with a soft brush or hang the wall hanging up outdoors and gently beat the backside to dislodge any dust.
Enjoy the wonderful warmth and tactile nature of your new acquired purchase!
Pauline Ehly - Four Winds Creations